The Drapers Interview: How new brands join the Wolf & Badger set
The multichannel concept store that thrives by growing talent in-house and expanding in new ways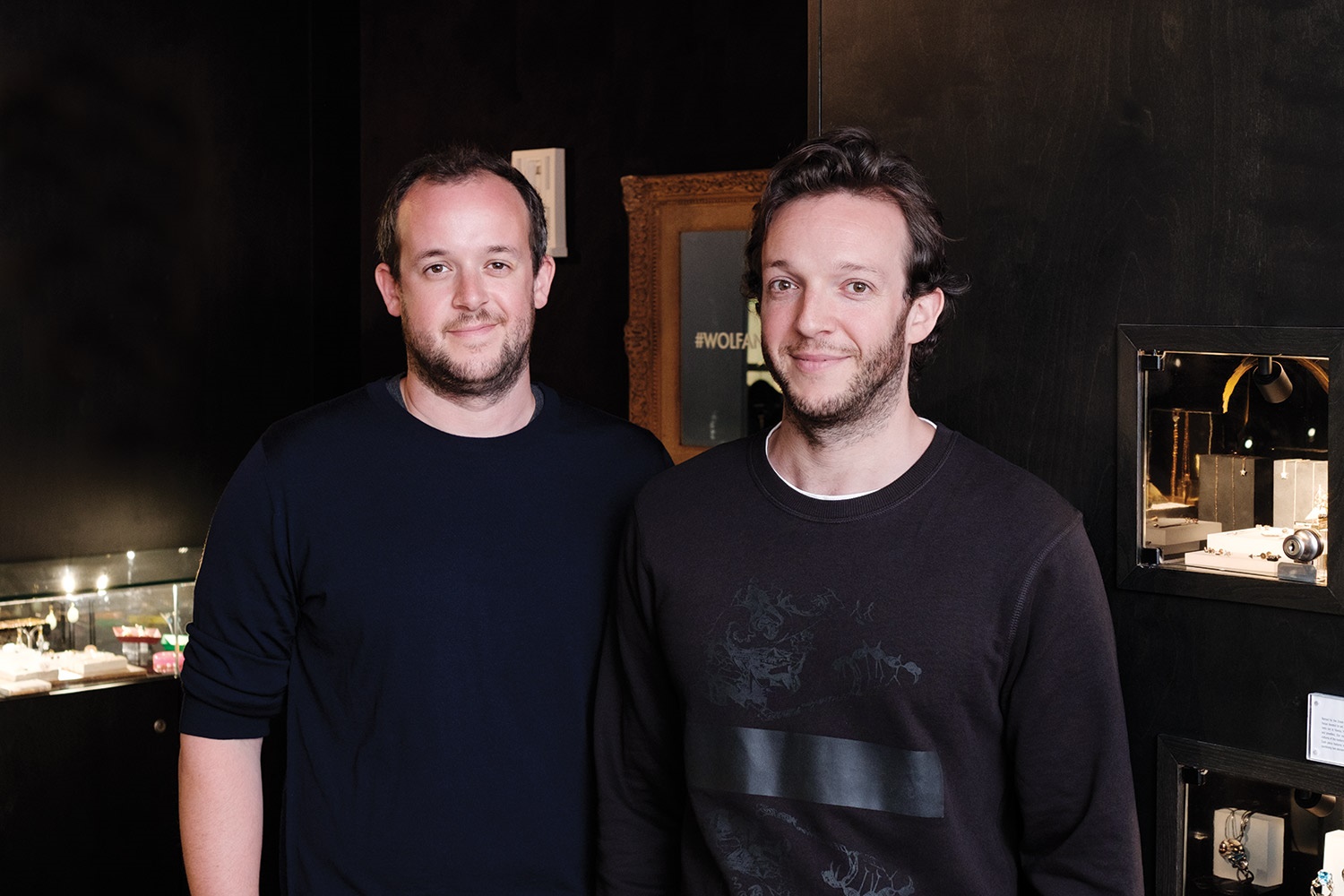 There is an air of moody coolness as I walk into premium indie Wolf & Badger's new shop on Dover Street, Mayfair – its second location in London. DJ Jamie XX plays through the speakers. A blue beaded cape by womenswear brand Veil London hangs in the window and the dark walls are brightened up with colourful garments, accessories and jewellery. George Graham, chief executive and co-founder, dressed top to bottom in conservative dark blue, walks towards me with an outstretched hand. Around the corner in the cosy fitting room area is Henry Graham, his elder brother, looking slightly scrappier, more creative.
The basic offer is a fully supported web platform, where we provide the central support and guidance when needed
"It's very clear cut now, although it wasn't at the beginning," says George as, in the juice bar below the shop, we discuss the structure of the business and the different roles the two brothers play. "Henry's the creative director and is responsible for all brand acquisition, product selection, official merchandising, interior design and so on. And I do all the boring bits.
"I have a particular focus right now on digital marketing and technical project management. And an ongoing involvement with staffing, finance and logistics."
Lightbulb moment
It's been six and a half years since the original Wolf & Badger opened on Ledbury Road in Notting Hill, London. While the brothers' roles took a bit longer to iron out, the concept and idea for the shop was something they agreed on from the start.
In the summer of 2009, the brothers lived together in West Hampstead and, as the story goes, a chat over dinner in their flat one night resulted in the two discussing it being time for them both to do something new. The former PWC strategist, George, who was also on the Drapers 30 Under 30 list in 2014, and Henry, who was working in retail at the time, created their shop concept then and there: service retail.
This concept is what sets the independent shop-cum-multiplatform brand apart from the rest. Wolf & Badger is 90% stocked with brands that go through an application process to apply for retail space in their shops and online. These include womenswear brands Rumour London and Parlour, menswear brands Raddar7 and Marbek, alongside jewellery and accessories in store and kidswear and beauty products that are online only. The average price in store and online for fashion items is £300, while jewellery is around £100. The average basket in store comes in at £230 with online being slightly less, at £140.
Once a brand is selected, a membership fee is applied, which contributes to the services, such as marketing and PR efforts from Wolf & Badger.
George explains, "The basic offer is a fully supported web platform, where we provide the central support and guidance when needed."
There needs to be an originality in the approach of the design in some aspect
Henry adds, "Marketing efforts also go into boosting the brand's exposure. Brands are provided with either an online retail space or a real-world physical retail space with a targeted customer base. Basically, we provide the missing piece."
Wolf & Badger will also cover packaging, free shipping and returns (including those that are international) and the use of the shops as event spaces. In turn, a small percentage of the brand's total sales, which varies depending on the membership fee, is paid to Wolf & Badger. Although they decline to exact figures, the percentage, they say, is less than that of a traditional wholesaler.
To date, Wolf & Badger has received 7,000 applications from brands that are interested in selling with them. Between the two bricks-and-mortar stores and online, 600 brands are currently sold.
"We take on about one in 10 of those that apply," says George.
Raddar7

Henry explains the selection process when looking at, and choosing, applicants: "There needs to be an originality in the approach of the design in some aspect. Certainly I'm not expecting the entire collection to be something I've never seen before, but we want to see something with it that is new, avant garde. And the finish needs to be perfect because there's no point having something that's really interesting to look at but badly made."

George adds: "We pick brands based on their merits rather than their reputation or reach. Some brands are big, some are small, but what they all have in common is that they're very much design led and innovative in their approach. We try to find designers that are genuinely doing something within their collection that is a little bit different."

Unlike with some retailers, department store buyers and other trade buyers are also encouraged to come into the store to find new talent.

"We play a certain role in the life cycles [of the brands]," says George. "And it's mutually very beneficial for everybody, for us to fit our niche and encourage brands to grow." Angelina Papadopoulou, founder of menswear brand Raddar7, who started selling on Amazon but has been trading with the brand for 12 months, says, "[Henry and George] are cool, young and different. And I believe their concept has a great future." She adds, "One of my leather jackets was on a list of the five best and it completely sold out. They really offer a platform to help you expand your brand."
We pick brands based on their merits rather than their reputation or reach
While receiving brand applications has been easy for them, explaining to prospective customers who come into the shop that they are "different" has been a challenge.
Henry explains: "We find customers are getting more and more bored of the homogenisation of retail. They see the same brands on every high street, on every website anywhere in the world. And there's an increasing desire [for them] to purchase something a bit more unique and individual. But often it's quite difficult to know where to find those brands, and be confident in purchasing from those smaller labels, so we provide a platform through which you can discover and buy from the world's best brands."
One way they have attempted to explain this is with their new print magazine, which is designed in house. On its sixth issue, The Sett with its tagline "discover new designers" is currently distributed to customers with their in-store and online orders. In the near future, the magazine will also be distributed to select hotels and lounges in London. The brothers have a foreword in each issue that explains their shop concept.
Despite the costumer's possible lack of understanding, Wolf & Badger continues to grow. During the past few years, physical side projects have included pop-ups in Selfridges and, further afield, in Montenegro.

"Looking back now, pop-up shops make increasing sense, to drive engagement with our brand and to attract new customers to our site," says George. "But after we opened this second store [in Mayfair], we really started to think about how we could grow the business in a more digital capacity."

Last year, Wolf & Badger received the Drapers Digital Award for Best Multichannel Retailer Under £25m Turnover. Although they will not confirm actual figures, the brothers say online sales have grown 200% in the past 12 months, from the year before. In addition to their Drapers' win, the August 2015 merger with global online marketplace boticca.com was a very successful driver for this, too. It added "hundreds of thousands of customers" to Wolf & Badger's email database and it saw a 30% increase in web traffic soon after.

Bashaques
Currently, 80% of Wolf & Badger's sales come from its site, which recently started selling beauty products and childrenswear, but Henry predicts this will "be at 98%, once we keep growing," because, he adds, "we're not intending to open a hundred stores, but we are intending to grow our web sales."
With 16 people in their head office focusing on digital, the team is fiercely growing and roles are becoming specifically focused on different digital marketing channels. Wolf & Badger has more Facebook followers than any of its other social media platforms but admits most of its engagement is on Instagram. Customers see product on Instagram and go in store to find it.
As the team is growing rapidly, part of George's role is to find the right people for the positions. His advice to anyone doing the same in their business is: "Hire someone you'd want to go for drinks after work with. But, more importantly, the key factor to success is finding people who are genuinely passionate about what they do – that really translates into such an awesome result, one you can't train. You can't bring that out in someone if it's not there."
Photo finish
At its head office, based in Shoreditch, London, the company has also broadened its remit and two months ago launched a photo studio called Wolf & Badger Studios to produce and complement its online and magazine content. The studio has recently started working with independent third parties to produce high-end photography and video. "We had been producing photography for years and we felt that we knew exactly what brands needed [in product photography], so we hired the best photographers and post producing people to do it in our space," George says.
George and Wolf & Badger's chief technology officer Alex Crawley have also recently mastered their bespoke epos system, which was built in house to make click and collect and a potential same-day delivery service easier to handle. They also created a full backend system for brands to log on to the Wolf & Badger website to add and edit their profile and entries, and to control stock levels and pricing. Real-time sales, in store and online, are all fed into a single report and payments are automated. "And now, we can now open a new store with the click of a mouse, essentially," George says.
The brothers toyed with the idea of expanding their shops internationally in the key fashion capitals and their eyes light up when I ask if they'd consider opening in my home town, New York City. Without a direct nod to the Big Apple, Henry says, "We would love to expand, and we are expanding. And we should have some announcements on that in the not-too-distant future."
Wolf & Badger gave us access that we otherwise would not have had in a curated environment

Olivia Francis, founder of Hamilton & Hare
While expansion is a sign of achievement, so is the role Wolf & Badger has played in the ecosystem of growing brands – menswear brand Hamilton & Hare, as well as jeweller Tessa Metcalfe, both of whom started trading in Wolf & Badger have since opened their own stores.
Olivia Francis, founder of Hamilton & Hare started selling the brand's boxer shorts at Wolf & Badger in 2012.
Violet & Wren

She says, "Wolf & Badger gave us access that we otherwise would not have had in a curated environment. Their great PR team opened us up to fashion publications and made sure we were presented in a good way." The traction that Hamilton and Hare gained from Wolf & Badger led the brand to open an own shop on Chiltern Street in May and also gave it a platform to expand its line to men's loungewear.

Similarly, Hackney-born jeweller, Tessa Metcalfe, says, "Wolf & Badger were the first major London stockist to approach me and start exhibiting my designs. It was wonderful to have Henry and George find my work and believe in me enough to take the a risk on an unconventional jeweller. They're a small company with big ideas and a strong aesthetic. And they're not scared to push boundaries." Metcalfe has been selling her jewellery with Wolf & Badger for fours years and has recently opened her own workshop in June near London jewellery quarter Hatton Garden.
"We're about nurturing the smaller brands and helping them reach their potential," Henry explains. "And, admittedly, it's not a purely selfless act because, in doing that, it encourages the best brands from around the world to see what we're doing and to come to us."
As we wrap up and leave the Raw Press Juice Bar – a space I also discovered was owned and run by a third Graham named Jack (the middle brother) – I am struck by the brothers' enthusiasm for their relatively new-found professions. I realise it is they who brighten up the slightly dim Wolf & Badger store, the dark mossy breeding ground that is constantly cultivating new talent.
Source: drapersonline.com
Editted by DK SANSAN & GISY Team
---
Like what you just read? If you want to read more articles like this, please join our mailing list:
Lỗi liquid: Không thể biến đổi String thành input có kiểu String
Lỗi liquid: Không thể biến đổi String thành input có kiểu String
Comment