How The Outdoor Apparel Industry is Becoming a Leader in Fashion.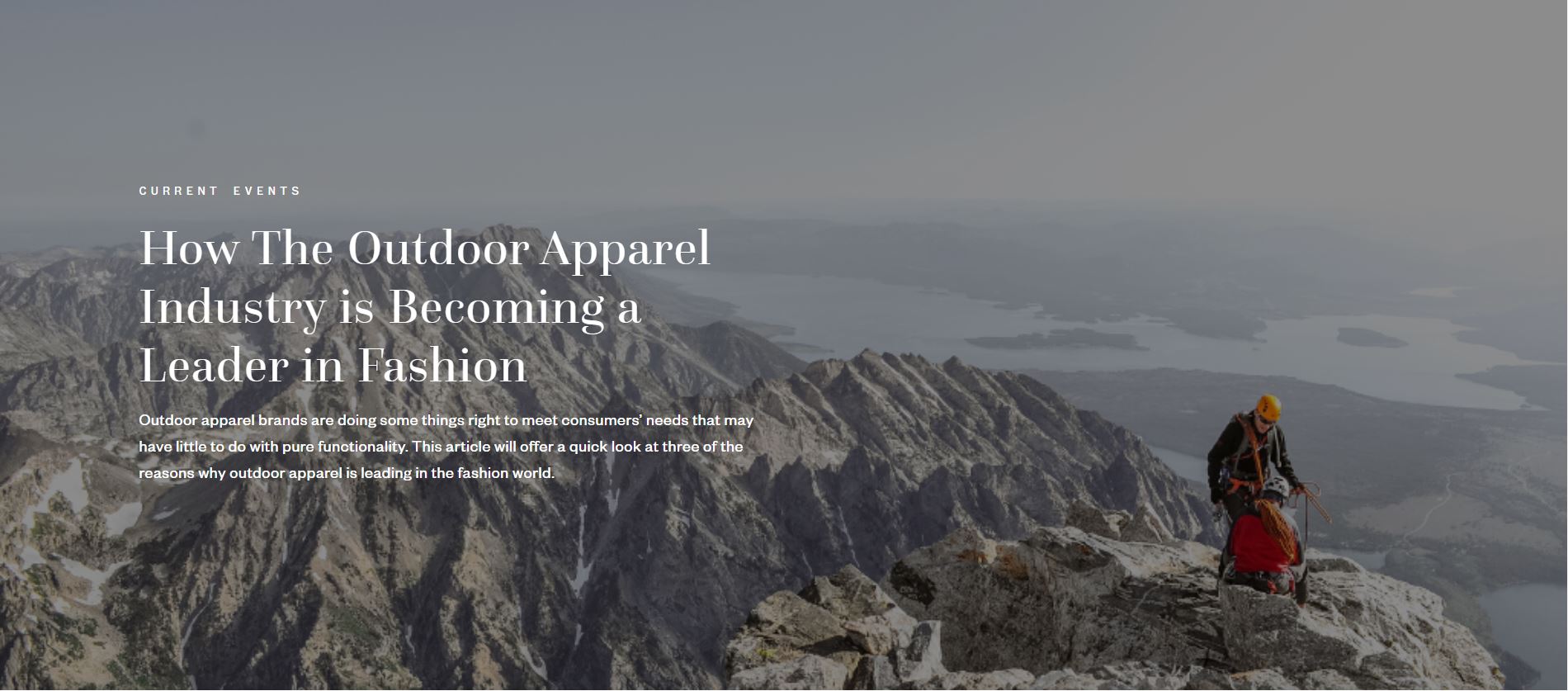 Outdoor apparel brands are doing some things right to meet consumers' needs that may have little to do with pure functionality. This article will offer a quick look at three of the reasons why outdoor apparel is leading in the fashion world.
Fashion apparel sales are down 4% in the United States overall, according to research by NPD Group Inc. But, there is one category of apparel that continues to grow—outdoor apparel. In fact, Euromonitor International data shows that the outdoor apparel category is expected to grow 9.4 percent through 2023 to $217.4 billion.
Outdoor is growing an un
1. Outdoor apparel brands are focused on subtainability.
The modern clothing consumer cares about sustainability. A new report from Nosto showed that 2,000 U.S. and U.K.-based shoppers demand sustainable practices and fair wages for workers from modern fashion retailers. While reports show that sustainability efforts in the fashion industry are slowing down as a whole, this is not true of the outdoor apparel industry.
Leaders in the outdoor apparel industry take sustainability seriously. And, outdoor apparel brands are adopting sustainability as part of their mission statements and marketing. Consumers that wear these brands are getting more than just durable products—they are simultaneously showing support sustainable business practices.
2. Outdoor apparel brands incorporate technology into their designs.
Not only do outdoor apparel brands focus on sustainability, but they also incorporate the latest and greatest innovations into their apparel. The outdoor apparel industry is innovating so quickly, they've even coined a new term to describe clothing that makes use of technology, techwear.
Consumers that are braving the elements want to invest in outdoor clothing that is functional, packable, protective, and fashionable to boot. And, outdoor apparel companies are using the latest technology to meet these demands.
Today's consumers are likely to choose brands that offer fashionable outdoor apparel that also offers things like innovative waterproofing, light in weight, warm in extreme temperatures, and extremely durable.
he more brands merge technology into the way they sell and manufacturer clothes, the more consumers will buy, and the faster they will beat out traditional brands.
3. Outdoor apparel brands and outdoor enthusiasts care about the environment 2. Outdoor apparel brands incorporate technology into their designs.
If there is one surefire commonality between outdoor apparel brands and consumers, it's this. They are hyper-conscious about environmental issues. Outdoor enthusiasts also understand that the apparel industry is the fifth largest global polluter, accounting for 10% of global emissions.
Consumers that care about the outdoors are more willing to buy from brands that take steps to be more environmentally friendly. Brands like Picture Organics, Patagonia, Skida, Cotopaxi, and make being eco-friendly a priority.
How? They are transparent about their use of energy, work with recycled materials, reduce material usage in shipping endeavors, focus on the durability of products, source sustainable materials, and participate in fair and economical manufacturing practices, to name a few.
It makes sense that consumers that love the outdoors would throw their support behind brands that take steps to preserve the outdoors.
Source: blog.nuorder.com
Editted by DK SANSAN & GISY Team
---
Lỗi liquid: Không thể biến đổi String thành input có kiểu String
Lỗi liquid: Không thể biến đổi String thành input có kiểu String
Comment