The new power accessory? The silk scarf
Luxury houses are putting a modern - and profitable - spin on the Queen's favourite accessory.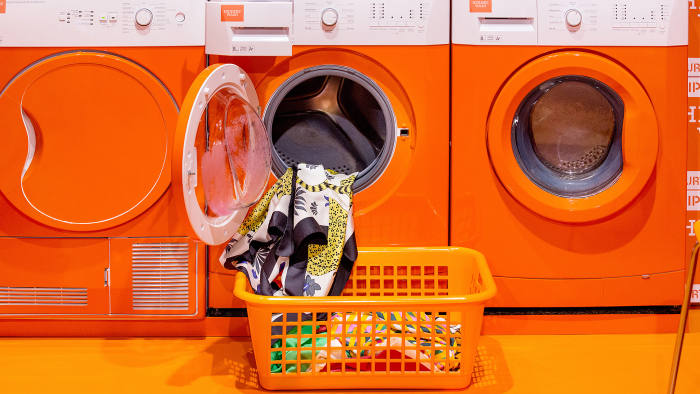 The Hermèsmatic laundry

In theory, silk scarves have everything going for them. They're an uplifting hit of colour and pattern, evoking the breezy glamour of Grace Kelly in To Catch a Thief. When it comes to brands such as Hermès and Gucci, with their floral fantasias or Henri Rousseau-esque jungles, scarves can be a wearable work of art.
In reality, the silk square has been upstaged in recent years by the cosier cashmere stole — possibly fringed, quite often in a rock'n'roll leopard print or paisley — and it's often been less synonymous with Hollywood glamour than with the Queen in doughty Balmoral mode.
Now, however, just as the central pillars of Princess Diana's sloaney 1980s wardrobe have pinged back into fashion — oversized blazers, graphic knits, loafers — the silk scarf is on the brink of a renaissance. Many of us have a neglected stash of them just waiting to be elevated from boringly bourgeois accessory to hip outfit accent. And with their competitive price points and bold designs — which lend themselves easily to online promotion — luxury houses have been quick to promote a sales category that has been long languishing on the shop floor.
"The scarf is a clever little way for brands to expand their product offering," says Coco Chan, head of womenswear at online retailer Stylebop. On the spring/summer 2018 catwalks, scarves were worn both as accessories and incorporated into garments. At Balenciaga, models wore long daisy-pattern scarves threaded through gold chokers with the brand's logo. At Dries Van Noten, silk squares with flower patterns were used as the hems or the main body of a shirt. Versace revisited the house's archive scarf prints; Gucci Cruise SS18 gave us models in silk scarves worn tight across the head and knotted at the back, pirate-style. And Marc Jacobs styled every look with a turban resembling a knotted headscarf, as worn by Adwoa Aboah for Edward Enninful's first UK Vogue.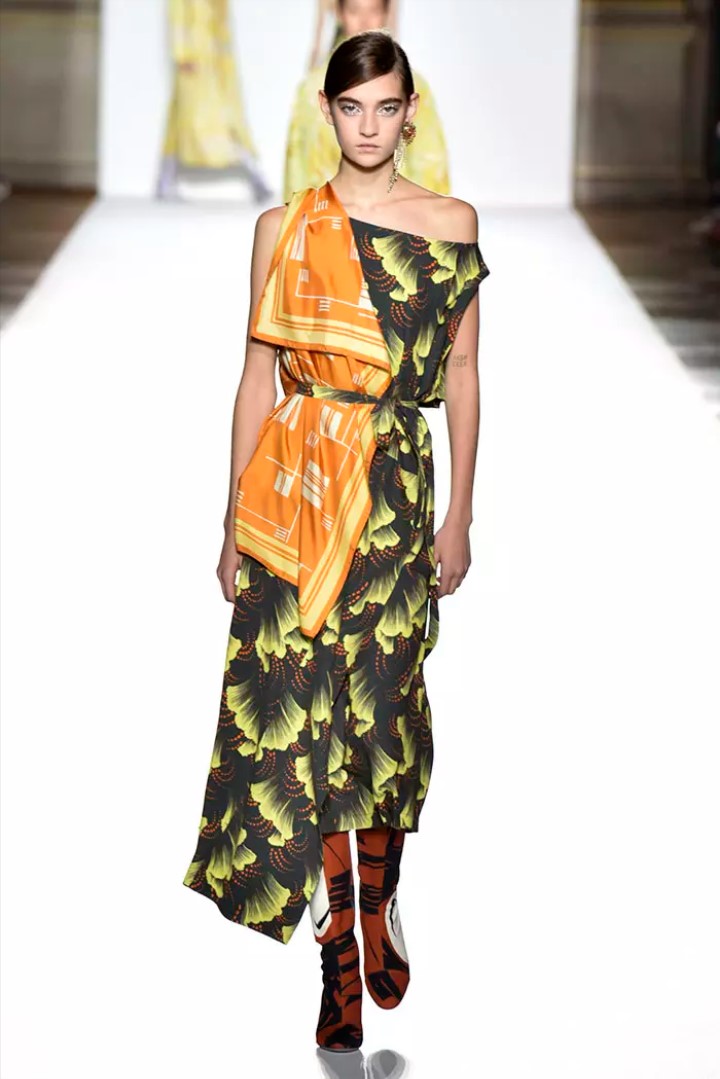 Dries Van Noten SS18 © Catwalking.com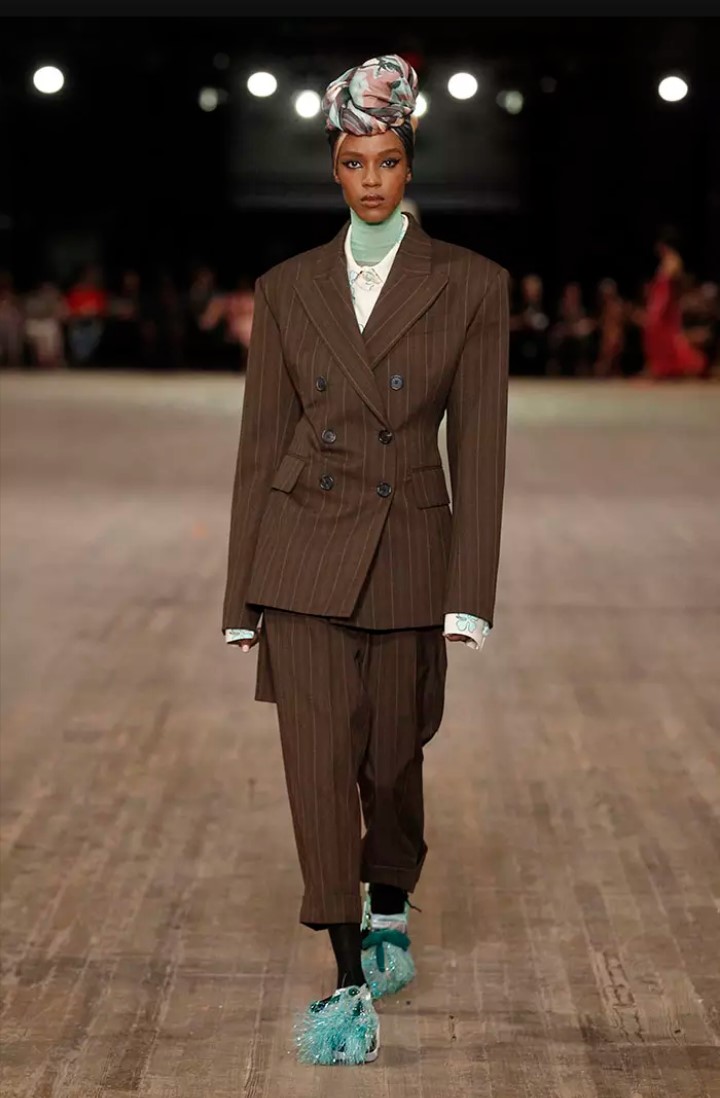 © Catwalking.com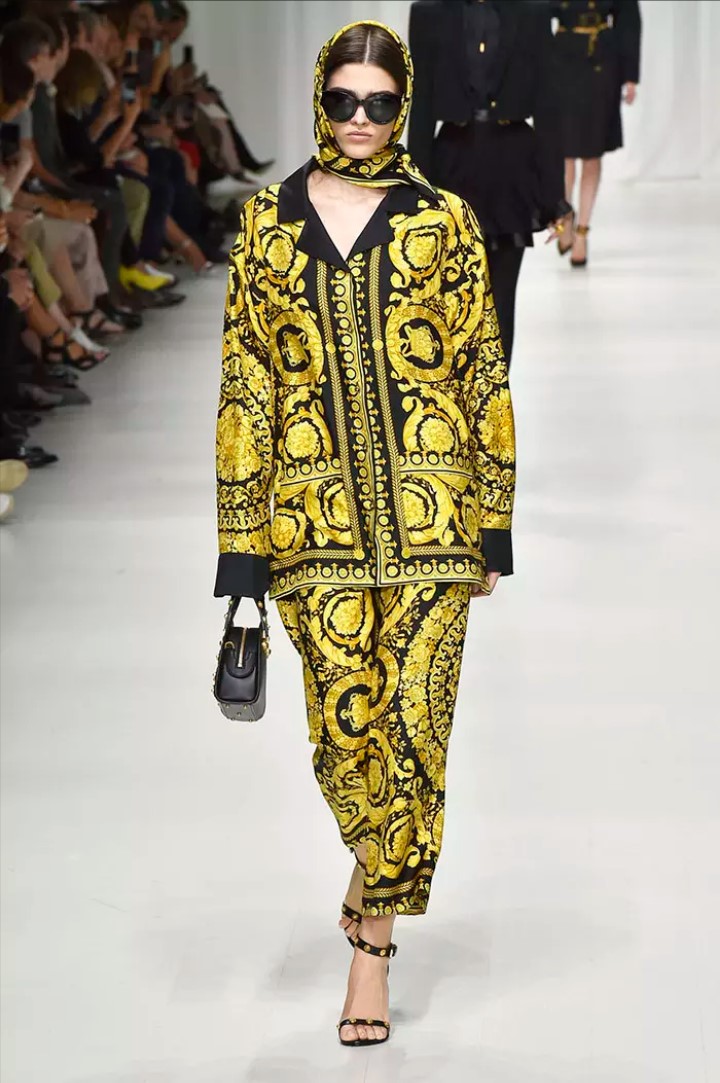 Versace SS18 © Catwalking.com
Chan thinks scarf sales are set to soar. "We have bought almost 30 per cent more for SS18 compared to SS17," she says, citing Versace, Balenciaga, Marc Jacobs and Etro as key buys. The online luxury site Net-a-Porter says silk scarf sales have increased "by nearly a quarter for AW17 vs AW16, largely driven by huge growth from brands such as Gucci, Alexander McQueen and Dolce & Gabbana." The site's best-selling silk scarf is a rose-print twill version by Gucci.
They're a great styling trick because they blend a ladylike propriety with that magpie, art-school vibe
Recently, Hermès — the ne plus ultra of the genre — put a modern, almost kitsch spin on the silk scarf with the launch of the Hermèsmatic, a chic, bright-orange take on a traditional launderette, designed to encourage younger clients to liberate long-neglected heirlooms from the bottom of the drawer. The pop-up, which arrived in Manchester last autumn and then visited LA, invites customers to take in old Hermès scarves to be transformed in the machine with a vibrant new shade. The results have a saturated brightness that looks utterly modern.
As a way in which to reinvigorate the scarf for a new generation, the Hermèsmatic has been a canny move. While silk and textiles remain the house's third-largest category, accounting for 10 per cent of the group's sales, it reported a 1 per cent decline in silk revenues, to €515m, in 2016. The Hermèsmatic has been a clever means to shake up a sluggish category: it reported a 9 per cent growth in silk and textiles revenues in their third-quarter results last September. They benefited, according to Hermès, "from sustained demand, the diversity of the collections and the wealth of the creations".
Quick to capitalise on this new currency, a number of specialist labels have also made the scarf their main focus. "Our skinny scarves have been a great success," says Jess Morris, who co-founded the scarf label Rockins in 2014. "No sizing issues and no returns! We turned over £1m in scarves last year."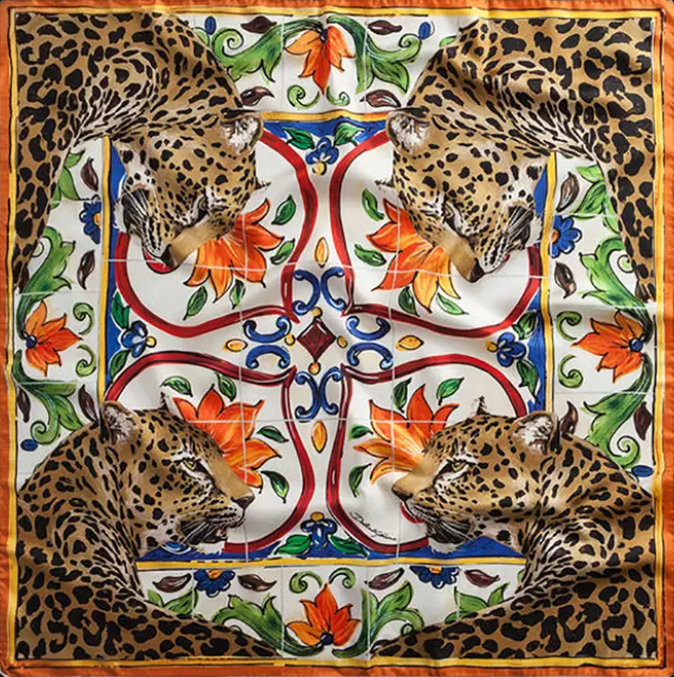 Dolce & Gabbana, £295 dolcegabbana.com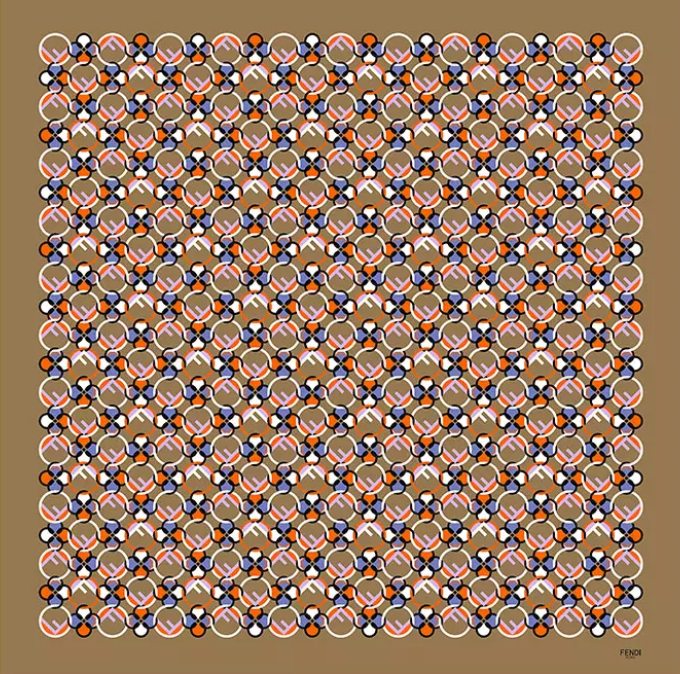 Fendi, £435, fendi.com
In addition to fashionability, the scarf's versatility is key, especially at a time when western luxury brands are becoming more attuned to the needs of their global consumers. "A beautiful silk scarf can be a key item in a modest wardrobe," says Sally Matthews, creative director of The Modist, an online luxury specialist. "A light scarf wrapped close to the neck provides a practical alternative to having to wear a high-necked layer underneath — and is especially good during the summertime." She is keen to make clear, however, that while "some [scarves] are being worn as head scarves or tied into a turban, this isn't because of religious reasons per se — our customers come from a diverse range of backgrounds and religions."
Further proof of the scarf's versatility came in November, when Selfridges launched an exclusive collection of bandannas from designers such as Loewe and Roksanda to be tied around the neck or head, or to personalise a bag. "Tying a scarf to a bag is an easy and creative way to customise and bring new life to it," says accessories hall buying manager Josie Gardner. The scarf is a key component in the new vogue for customisation: at Fendi, you can personalise bags by picking a twill scarf to be threaded through the strap, while Mulberry displays its Amberley bag with a scarf knotted to the handle.
There's no disputing that Dolce & Gabbana's summery tile designs or Gucci's Warholian cat-portrait prints are things of beauty, but styling scarves can be challenging. "They're a great styling trick on the runway or in campaigns, because they blend a ladylike propriety with that magpie, art-school vibe," says Chan. "However, they certainly present a sartorial challenge for our customer."
"I like to wear them as a bandanna, because they can upgrade a white T-shirt instantly," says Vanessa Seward, the Parisian designer who has mastered the art of bourgeois with a twist. She looks to Debbie Harry as a scarf mentor. For the longer "lavallière" styles, she is inspired by "stylish men from the 1970s such as Gunter Sachs or Helmut Berger, who wore them like a loose tie with shirts and blazers".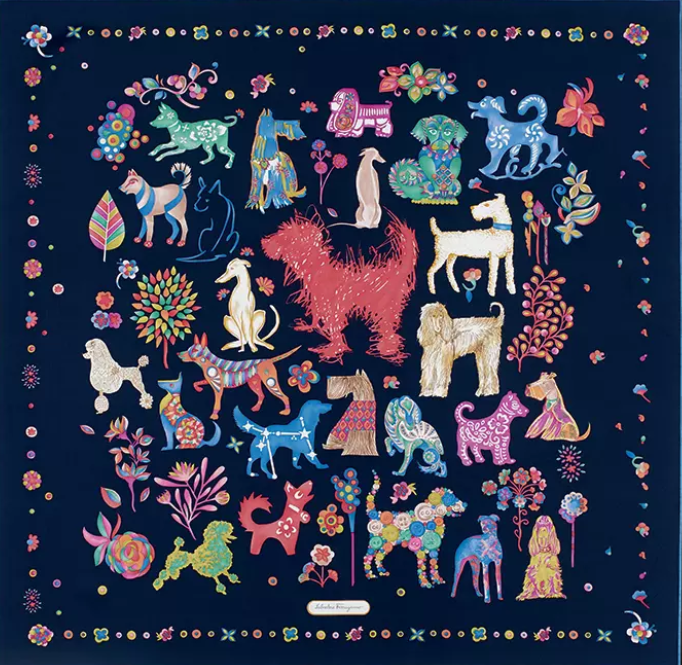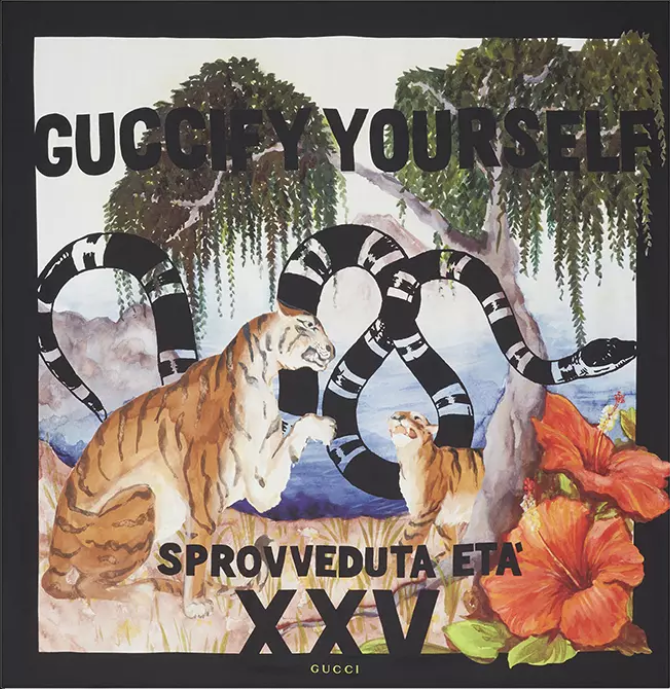 Gucci £310, selfridges. com
Can men wear scarves? Of course they can. Jess Morris says that sales of her Rockins scarves used to be worn predominantly by women, with men making up about 10 per cent of sales. "But increasingly we're selling to more and more guys, young and old. The super-skinny scarves are a great louche alternative to a tie," she adds. "Less stiff."
A scarf could prove functional as well as fashionable. In case of injury — say from some overzealous knotting of your new neckwear — you could make like Grace Kelly: when she hurt her arm in 1959 at a yacht party held by Aristotle Onassis, she fashioned a Hermès silk square into an emergency sling.
Source: ft.com
Editted by DK SANSAN & GISY Team
---
Like what you just read? If you want to read more articles like this, please join our mailing list:
Lỗi liquid: Không thể biến đổi String thành input có kiểu String
Lỗi liquid: Không thể biến đổi String thành input có kiểu String
Comment