The History of the Silk scarf
SURPRISE: BEETHOVEN WAS THE FIRST PERSON TO MAKE IT A FASHION STATEMENT
Most items in fashion today were born from some kind of need: Leggings were conceived to provide added warmth, straw hats were woven to block the sun's rays, and bucket hats were crafted to offer protection from the rain.

And while scarves also share a practical purpose (for the most part, as a way to keep your neck warm), those of the silk variety—luxuriously smooth to the touch and light in weight—really serve no other function than to complete an outfit.

Gianni Versace Spring/ Summer 1992 - Versace
Angel with the Sundarium, Ponte Sant'Angelo, Rome, Italy. - Getty Images

The first widely recorded instance of a scarf dates back to 350 BC when Egyptian Queen Nefertiti wore a finely woven style with a headdress. Elsewhere, Roman men in 10 AD tied linen versions called a sudarium (Latin for "sweat cloth") around their neck or around the waist to wipe away or soak up sweat. In 230 BC, warriors of the Chinese Emperor Cheng wore scarves to denote rank.

But it wasn't until the 17th century when the use of silk scarves was an indication of class and status: Croatian soldiers of higher rank wore silk scarves while others were issued cotton ones.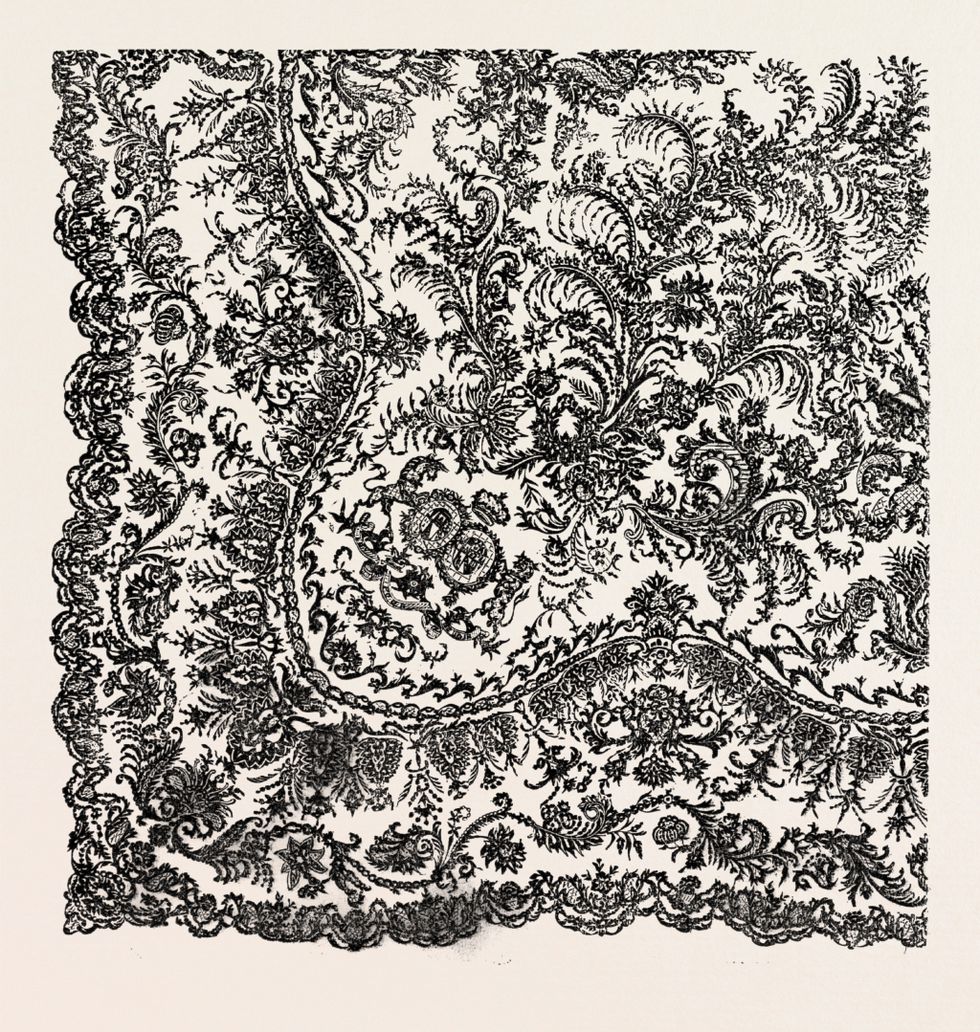 Getty Images
In perhaps what could be considered the earliest instance of peacocking, Ludwig van Beethoven was the first to make the scarf a fashion statement in 1810, making over his look in the hopes to woo Austrian musician Therese Malfatti with his sharp suits, shirts, and silk scarves. Several decades later in 1837, Queen Victoria ascended to the throne and it was during her reign that silk scarves became an accessory for the nobility, a symbol of luxury.

And to supply such tokens of luxury was Hermès—in 1937, the French luxury house, which had previously only dealt with bridles and harnesses before entering the leather goods business, introduced what will become the first true luxury silk scarf. Made with imported Chinese silk—which was twice as strong as any other fabric at the time—the design was based on a woodblock drawing by Robert Dumas, who was a member of the Hermès family.

Portrait of Beethoven - Getty Images
Hermé's Scarf, LE CARRÉ("THE SQUARE"), made its debut in 1937 - 100 years after Thierry Hermès found the company - Pinterest
"Breakfast at Tifany's" - Pinterest

It was an immediate hit, especially among royalty and celebrities, with Queen Elizabeth adopting them as part of her uniform, wearing them—to this day—as headscarves. Audrey Hepburn, too, wore them as a headscarf or tied around her neck ("When I wear a silk scarf I never feel so definitely like a woman, a beautiful woman," the actress once said.)

And when Grace Kelly broke her arm in in 1956, she famously eschewed hospital-issued slings and fashioned her own with an Hermès scarf.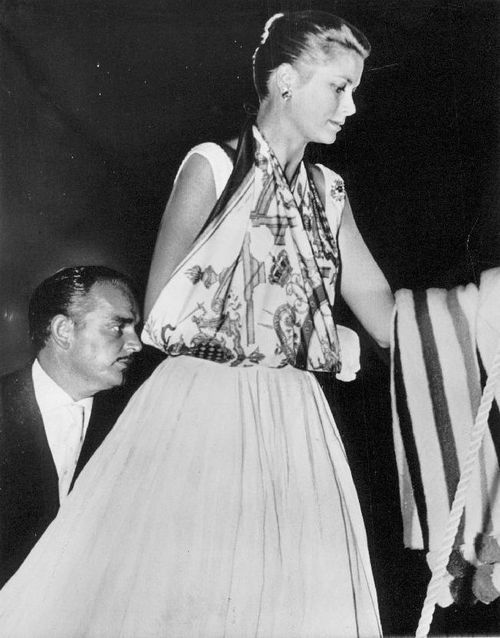 Grace Kelly - Pinterest
Incredibly ornate and intricately detailed, one Hermès scarf—made from the silk of 250 mulberry moth cocoons—takes 18 months to complete, starting with the artists who draw each one by hand to the hand-silkscreening process, which can take up to six months (engraving the printing screens takes 750 hours). Since 1937, more than 2,000 silk scarves have been made.
All the chicest icons we know today—Brigitte Bardot, Faye Dunaway, Lauren Bacall, Bianca Jagger, and Jackie Kennedy—turned to silk scarves to infuse their looks with effortless glamour in the '50s and '60s. By the '70s, emboldened by the free-spirit nature of the decade, silk scarves became bolder in their design, with in-your-face patterns and striking colors, which were worn as dramatic headwraps or around the neck to complement flowy looks.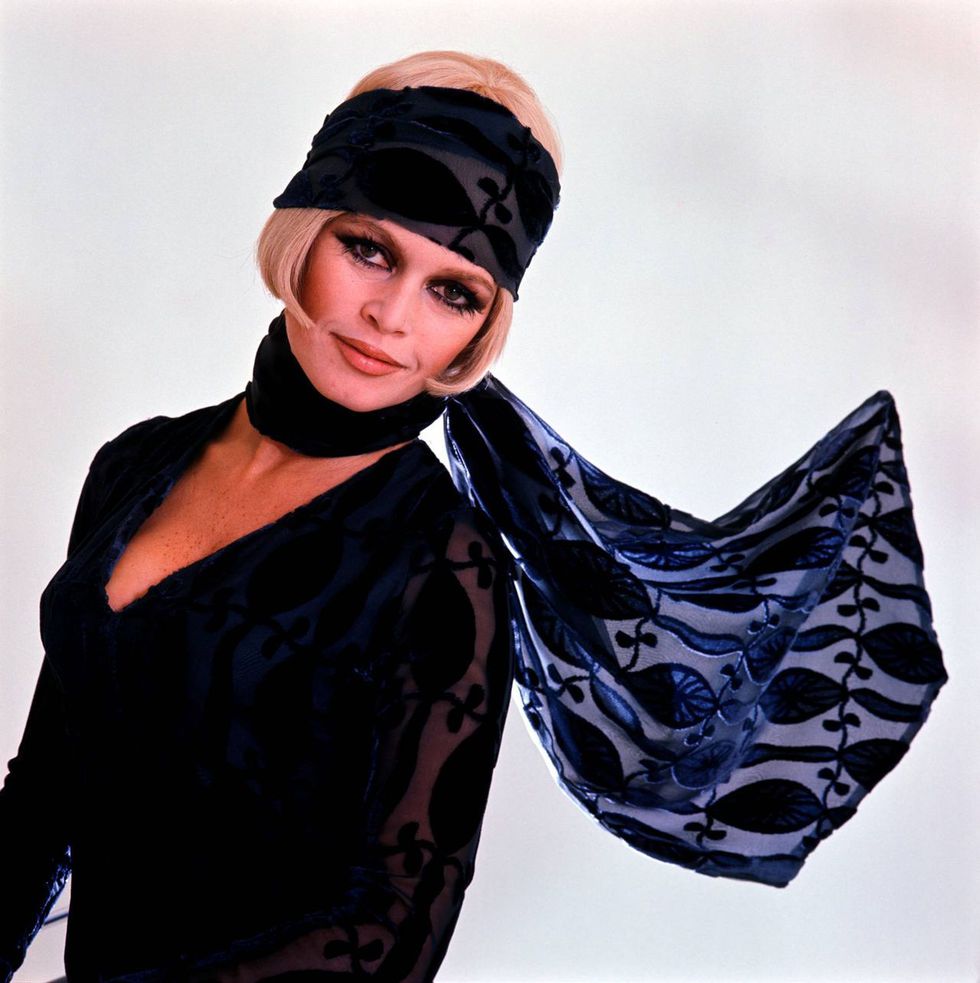 Brigitte Bardot - Getty Images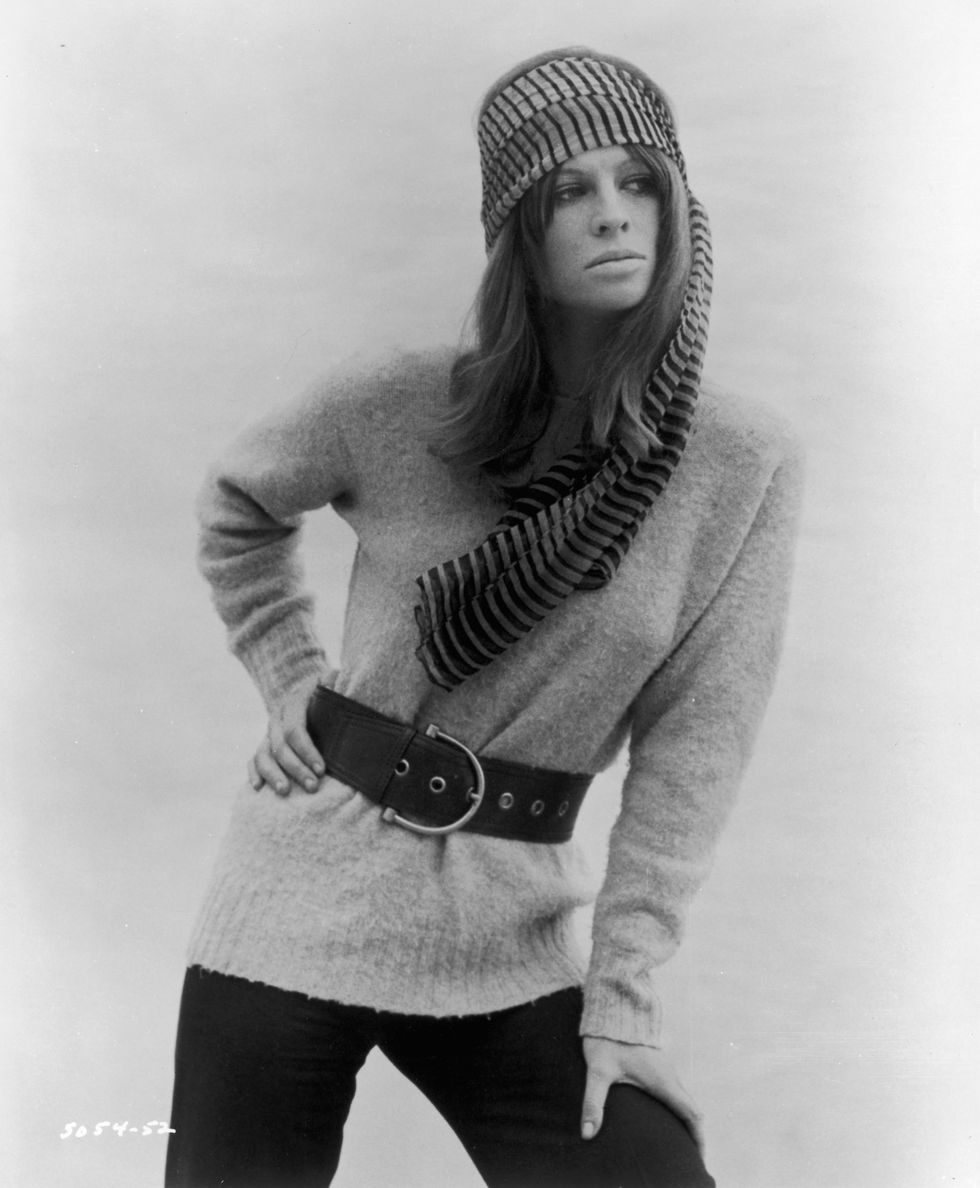 English cctress Julie Christie in 1970 - Universal Pictures
| | |
| --- | --- |
| They laid low in the '80s and '90s, but Alexander McQueen was responsible for their comeback in the mid-aughts when he debuted his highly coveted skull-covered scarves on the Spring/Summer 2003 runway. Since then, silk scarves hadn't been at the front of fashion consciousness—until most recently. | Comme Des Garcons X Gucci - Gucci |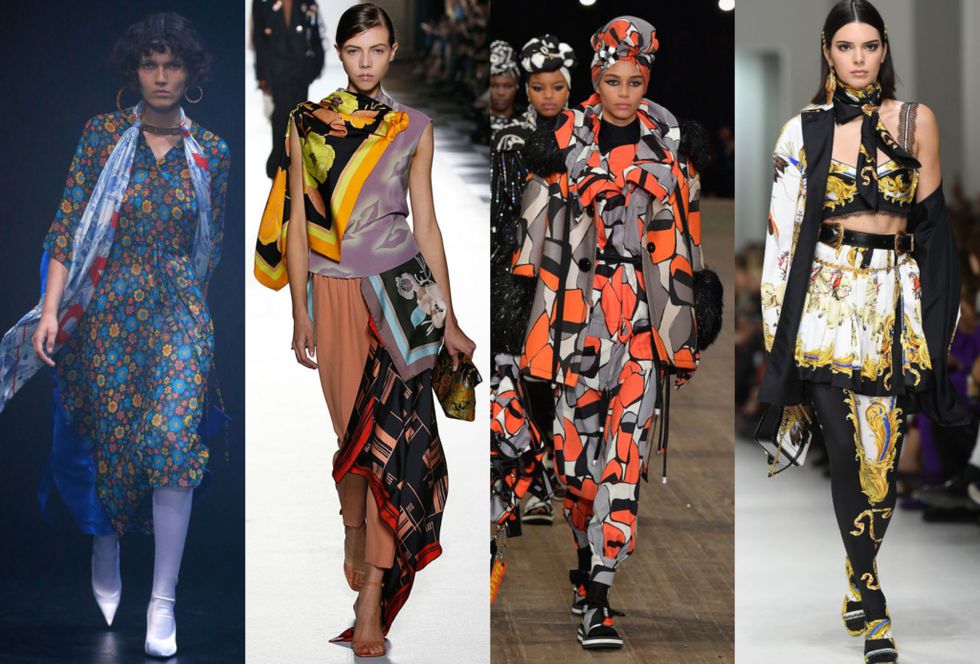 Spring/Summer 2018: Balenciaga, Dries Van Noten, Marc Jacobs, Versace - Getty Images
For Spring/Summer 2018, Demna Gvasalia clashed prints (as he's wont to do), draping a silk scarf over moody prints at Balenciaga, Dries Van Noten took a singular interest in scarves and fashioned tops and skirts out of the accessory, Marc Jacobs topped his models with silky turbans, and finally, to complete her tribute collection to Gianni Versace, Donatella Versace gave scarves the same archival print treatment as she did with the clothing. With maximalism going the way it has, along with fashion's unceasing fixation on the past, perhaps we'll soon see silk scarves worn as head wraps or tied around our necks sooner than we might think.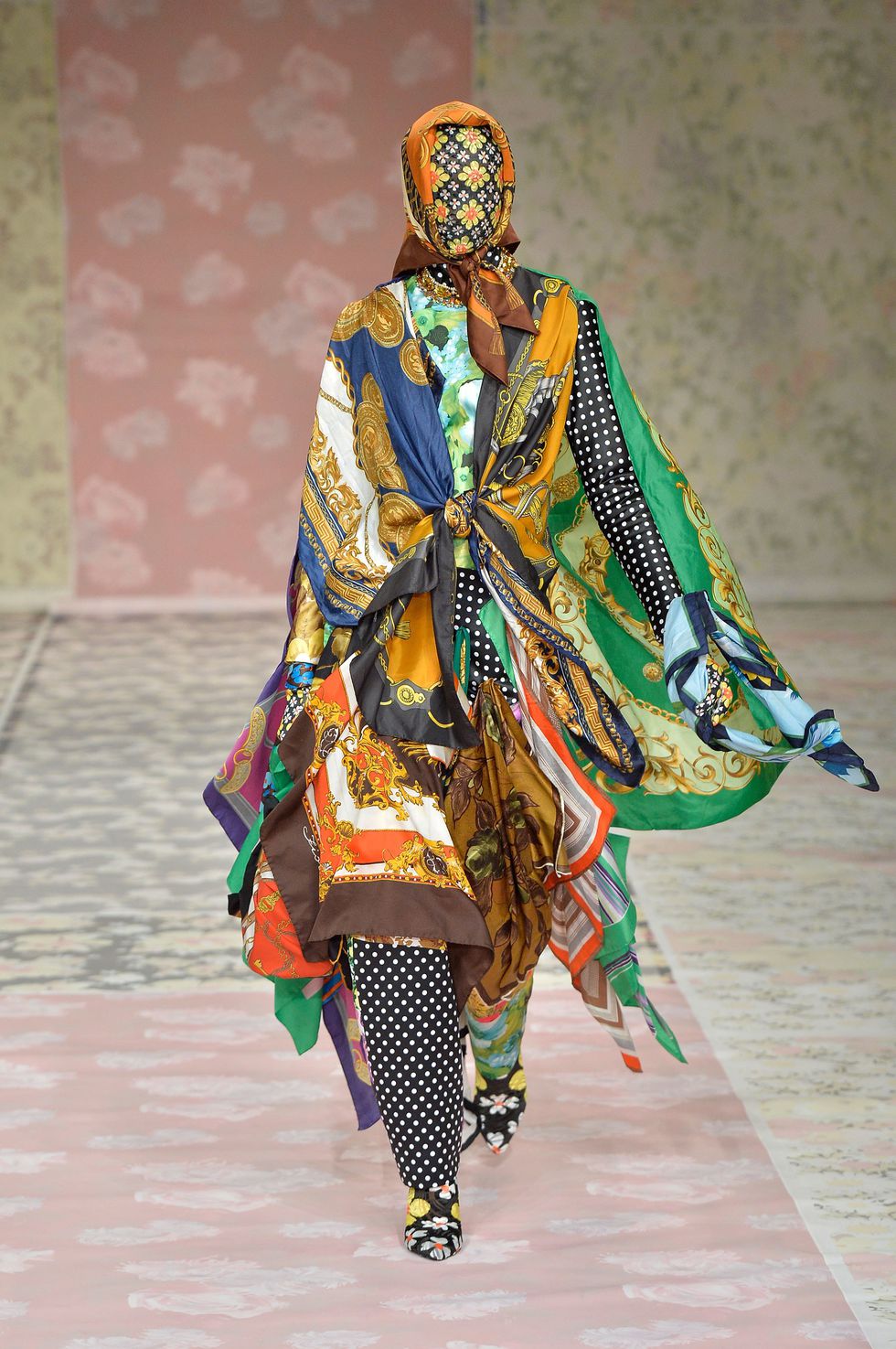 Richard Quinn fall/Winter 2018 - Richard Quinn
Source: crfashionbook.com
Editted by DK SANSAN & GISY Team
---
Like what you just read? If you want to read more articles like this, please join our mailing list:
Lỗi liquid: Không thể biến đổi String thành input có kiểu String
Lỗi liquid: Không thể biến đổi String thành input có kiểu String
Comment