The hidden benefits of silk underwear
Whether it's for lingerie or loungewear, silk is the go-to fabric for many brands, ourselves included. But just what is it that makes silk so special and keeps you coming back for more?
Satin vs Silk
First, a quick definition – silk and satin are often used interchangeably, but they are in fact completely different descriptors. Silk is a fiber, or what the fabric is made of, created by silkworms, and it comes in many forms, each with their own characteristics. Silk chiffon, for example, is light and airy, with a sheer transparency, whereas silk dupion is heavy and opaque, and often used in curtains or interior fabrics.
Satin is the name of the weave, and can be made from various different fibers – sometimes those are silk, other times polyester or other synthetic materials, or with either of those blended with elastane for extra stretch. Satin is smooth and soft to touch, with a luminous sheen. This makes it the perfect textile for lingerie, being both lightweight and opaque, with a luscious soft feel next to the skin.
We use 100% pure silk satin for all of our loungewear, and several of our lingerie collections too, with a touch of stretch added to others where needed for the perfect fit. We'll just be using "silk" in this article for the sake of simplicity, but for the purposes of our garments, it will generally refer to silk satin.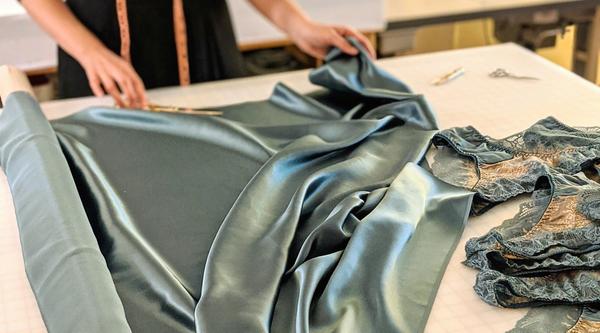 So, let's dive into some of the many benefits of wearing silk, whether for a lingerie set or in decadent robe form, and why we love it so much:
It just feels lovely!
If you've never felt how decadent a silk bra or panty is against your skin, you're in for a treat! Buttery soft and oh-so-smooth, once you've tried it, there's no turning back. We firmly believe that every day should be a special occasion, and there's no better way to elevate a regular Monday than by wearing beautiful silk underwear under your normal clothes. Now that we're all spending more time at home, you can even make silk loungewear your whole outfit, with an elegantly draped silk robe for at-home cocktail hour or a lace-trimmed camisole and tap pant set for feeling extra special while enjoying your morning tea.
Breathability
As a natural fiber, silk allows your skin to breathe, which is especially important for intimates. As glamorous as it is to think of fanciful silk panties, they're practical as well as pretty! By allowing air to circulate, wicking moisture away from the skin and letting it evaporate, and being naturally hypoallergenic and anti-fungal, silk makes a smart choice for practicality as well as luxury.
If you're looking for 100% pure silk for your undies, including the gusset lining, with no stretch or lace, our Louisa and Shannon ranges are your new favorites, with a choice of tap pant or thong plus matching silk lined bralettes.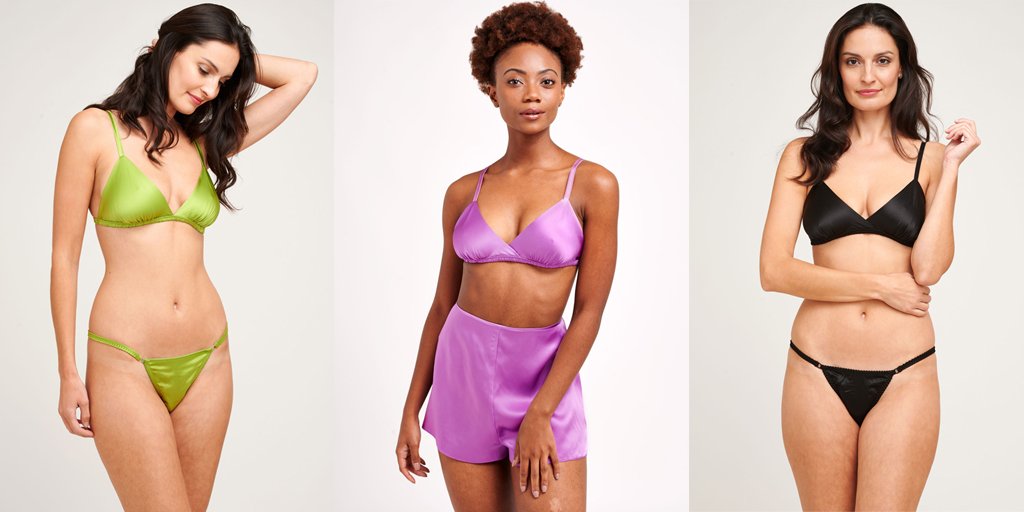 Temperature Regulation
Whatever the season, silk is a wonderful fabric for adapting to your temperature. When there's a winter chill in the air, it provides excellent insulation, allowing for warm air to be kept close to your skin, while still having the breathability to avoid uncomfortable overheating. Take advantage by layering your silks with pieces made in other natural fibers with even more heat retention properties – add a cashmere cardigan on top of a silk cami for cozy work from home comfort, or snuggle up in the evening with a warm wool sweater and some indulgent silk ruffled panties for a delicious combination of textures.
In the height of summer, when you just want to keep cool and fresh, silk is your best friend. As well as all of the benefits of breathability already mentioned, the natural temperature regulating properties and heat dispersal makes it the ideal layer to have closest to your body. A silk bralette and panty under your outfit avoids that uncomfortable, sticky feeling that comes from many synthetic materials; and a silk slip makes the perfect option for sleeping or lounging at home on hot summer nights.
Skin sensitivity
If you have sensitive skin, silk can help you avoid the itchy redness and skin irritation that comes with some synthetic fibers. Our 100% silk collection uses only the give of the fabric itself to drape and fit (known as the "bias cut") and is a great place to start if you're looking for pure silk for your intimates. Our other silk collections add a touch of elastane to enhance the stretch capabilities, for more form-fitting pieces such as the backs of panties (including even lining them on some styles, like the Wisteria, Iris or Lillie!)
Many of our customers who suffer with eczema have also reported their symptoms easing when wearing silk, with the addition of the gentle support of our unwired silk bralettes to avoid the tightness of conventional bra shapes. Try the Louisa or Shannon collections for 100% pure silk with no elastane added for very sensitive skin.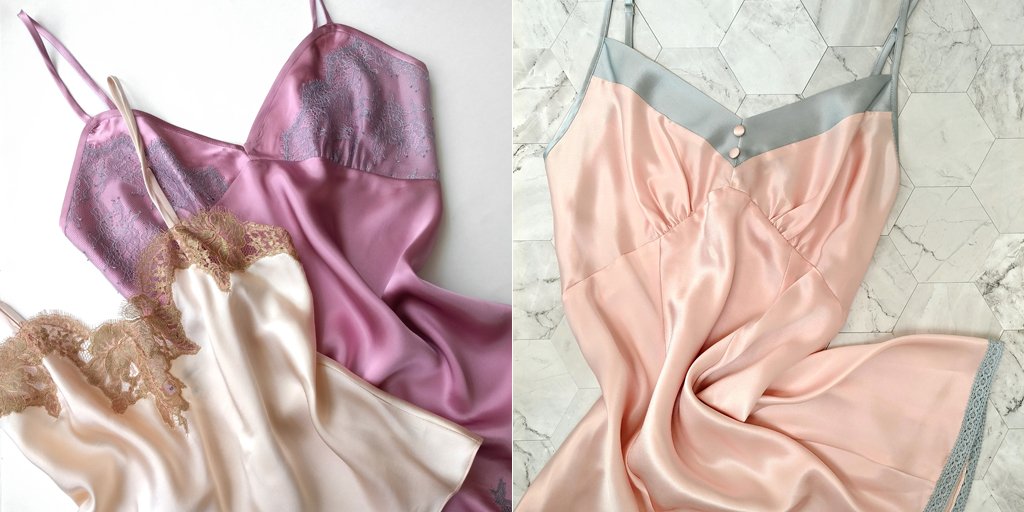 Anti-static properties
Often overlooked as a throwback to our grandmothers' ways of dressing, silk slips are actually a great way to create a smooth line between outerwear and hosiery due to the natural anti-static properties of silk. (We all know that uncomfortable feeling of a synthetic garment sticking to our legs throughout the day!) Take a look at our guide to the benefits of silk slips to see why we're big fans of these vintage-inspired but timeless garments.
Versatility
Being both durable and wonderfully fluid, silk has so many applications for both lingerie and loungewear. Our silk bras are even lined in silk for the ultimate in comfort with gentle support, and we have a style of silk panties to suit every preference, from classic tap pants to VPL-free silk thongs. Prefer to lounge? From a dramatically flowing floor length robe to a long nightgown worthy of an Old Hollywood star, it's the perfect material for living your best, glamor-filled life.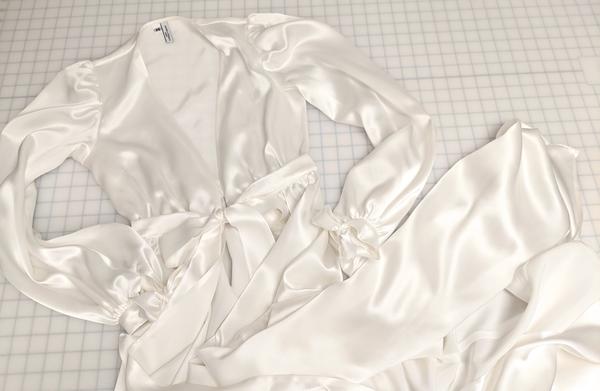 These are just some of the benefits of silk lingerie, but as a fiber there are so many more ways to use it, from sleeping on a silk pillowcase to reduce hair tangle, as a material to make parachutes, and even as surgical sutures. For now though, we'll stick with bras and panties! Shop our 100% silk collection for all of our styles made in pure silk, or add delicate laces and embroideries for more decorative flair in our main lingerie or loungewear collections.
Caring for silk
Worried about silk being difficult to take care of? Think again! Our straightforward guide shows you how to handwash your lingerie in 4 easy steps, with extra tips and tricks for stain removal, washing silk robes, and everything else you need to know about keeping your silk in perfect condition, with minimum fuss
Nguồn...
Edit by DK SANSAN & GISY Team
Lỗi liquid: Không thể biến đổi String thành input có kiểu String
Comment